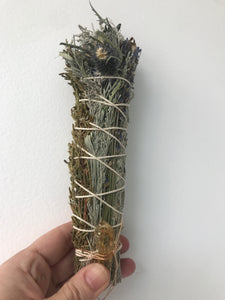 deep clean sage smudge stick
Regular price
$38.00
$0.00
Unit price
per
Mountain Sage, Juniper Sprigs, Lavender, Mint, Blue Thistle & Citrine crystal
Cleanse, recharge and "Deep Clean" with this sage bundle. This blend is designed to cleanse negativity, uplift energy, protect space, invoke serenity and recharge your space and/or aura.
The smoke from dried sage clears emotional and spiritual negativity. Dried mint is both cleansing and uplifting when burned as an incense. Juniper represents resilience from the constantly changing elements from our day-to-day life. Dried lavender restores calmness & serenity bringing you back into a comfortable, pure and clean place.
The "Deep Clean" blend is charged with a Citrine crystal, which is a powerful cleanser and regenerator.
Happy "Deep Clean" Cleansing!
Please keep in mind that each sage bundle is uniquely hand wrapped and may differ from the rest. Sage Bundle is approx 8-9 inches long and 1 1/2-2 inches wide.
Please burn sage responsibly. Do not inhale smoke. Do not leave unattended while burning.
---